Roofing Contractors in Juneau, AK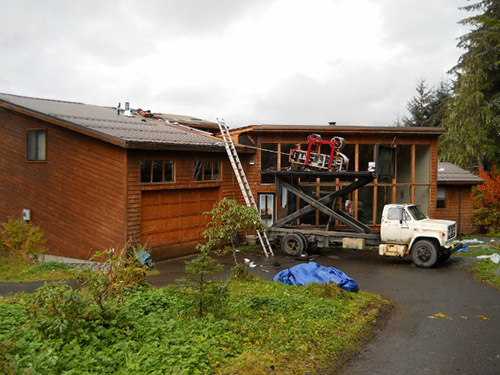 Since 1970, Design North Roofing has been providing custom residential and commercial roofing solutions to the Juneau, Alaska area. We replace approximately 30 residential roofs and a handful of commercial roofs annually. Don't hesitate to call one of Alaska's premier roofing companies for free estimates regarding emergency roof leaks, roof replacements (metal, shingles, or membrane), siding, or rain gutters.
Design North Roofing originally opened its doors in Juneau in 1970 as a general contracting firm, working on all aspects of construction. Over the years, our focus has shifted to specializing in water-proofing and the application of roofing, siding, and gutter products for both commercial and residential structures. Our background in general contracting, coupled with our focus as roofing contractors in Juneau ensures that you receive competent and reliable service.
Here are a few more reasons you should choose us:
We have six core employees with over 110 years of combined residential and commercial roofing/construction experience in Juneau.
We are a family-owned and operated business.
Our company is fully licensed, bonded, and insured for your protection.
We are certified GAF Master PVC membrane roofing contractors, both commercial and residential.
We're pleased to offer free estimates to all prospective customers on products and services.
We stand by our work and provide 5-year workmanship warranties for our roofs.
Why We Hand Nail Our Shingles
We may be one of the only roofing companies in Juneau, Douglas, Thane, Auke Bay, or Juneau County, AK that nails shingles and underlayments by hand, as in with a hammer. The hand-nailing method ensures that every nail is seated properly and not blown completely through the shingle or underlayment product. It is faster to use a pneumatic (compressed air) nail gun, but varying air pressures produce countless over-driven, under-driven, or crooked nails. These improperly driven nails have no holding power and lead to slow weeping leaks that feed attic mold and produce rot. Weeping leaks often go undetected because they are so slow and don't drip into the living space, all the while irrigating the mold and causing damage. Our roofing contractors replace a lot of nail-gunned shingle roofs that are less than 10 years old because of these problems. We believe hand-nailing sets us apart from the competition and is a driving force of our strong reputation for providing long-lasting, quality roof systems.
Metal Roofing/Gutter Products Available
We utilize three concealed fastener metal roof panel forming machines and one mobile gutter forming machine. We have a full metal shop to fabricate any custom flashings you may need. We also custom make our own flashings for any roof we install. We stock many colors in 26 gauge steel to make your residential or commercial roofing panels, flashings, and gutters. We can quickly fabricate custom-tailored metal roof packages for Juneau and surrounding areas with a focus on getting the products to you un-damaged.
Get Your Free Estimate Today
Looking to make an upgrade to your roof? Get in touch with one of the best roofing companies available today for a free estimate on superior roofing products and services from our roofing contractors.