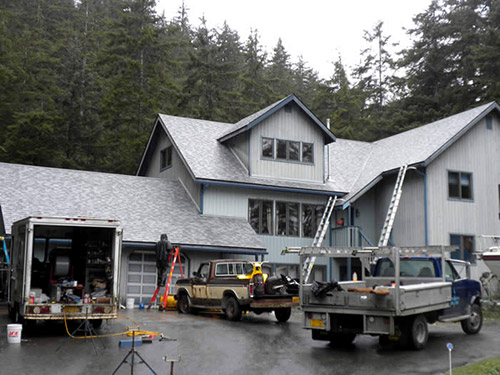 At Design North Roofing, we have a tenured history of providing top-quality roofing services, and we take pride in doing a superior job the first time around. Our roof replacement team doesn't just put a bandage on the problem—we fix it. And, if you're choosing us for brand new roofing installation, you can be sure you're getting a full and complete installation, done to rigorous standards of excellence.
We specialize in all aspects of roofing, from designing custom roofs to comprehensive roof repair in Juneau, AK. Our primary focuses include:
Manufacturing: We manufacture metal roofing products and custom gutters right in our home shop! As a result, we're able to give our customers a level of personalized, tailored results that's simply unmatched by any other roofing company.
Repairs: Got a leak? Ice damming? Damaged or missing roofing materials? Give us a call right away, any time of day, and we'll quickly get on-site to fix your issue. Our roof repair team is adept at working fast, thoroughly and accurately, to provide you with peace of mind that your roof and the rest of your building are protected.
Installation: Looking for a custom roofing installation? Need a roof replacement in Juneau, AK? Our expert team is dedicated to providing you with roofing installations that exceed your every expectation. Whether it's a tear-off job or a brand new build, trust us to get the work done thoroughly and completely.
PVC membrane and foam roofing
We proudly install GAF Everguard PVC membrane roof systems and are certified GAF Master Installers. The 60 or 80mm white or light gray membrane is glued down to a new layer of plywood, with all seams/detail flashings heat-welded using hot-air welders.
We also install Insulfoam pre-engineered tapered foam systems under many of our membrane roofs. These roofing systems provide additional R-Value and slope to get rid of ponding water and centrally located drains.
Get roofing service today
Whether you need roof repair, a new roof or are looking for a company to help you customize your roof replacement, look no further than the team at Design North Roofing. Contact us today by calling 907-586-6540 for more information about our capabilities with roofs, rain gutters, metal roof panels, and more in Juneau, Douglas, Thane, Auke Bay, and Juneau County, AK.