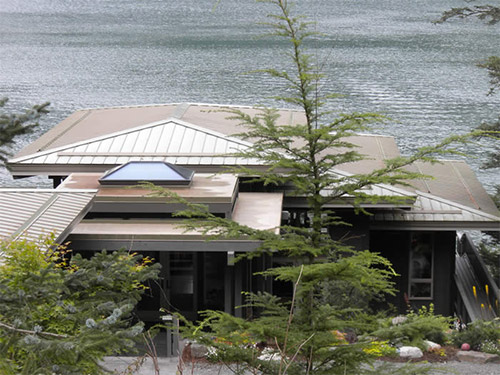 Part of the reason residential and commercial customers choose Design North Roofing over other metal roof contractors in Juneau, AK is because of our ability to provide truly tailored metal roofing solutions. We are familiar with most roofing products and can help determine what's best for your situation.
We go out of our way to offer customers the best of the best when it comes to metal roofing and rain gutters. We understand how important it is to be able to rely on products that are manufactured to last, which is why our selection includes a true array of best-in-class products:
Metal roofing and siding: We manufacture concealed fastener 12″ wide snap-lock panels in 24- and 26-gauge steel thicknesses. Our painted steel coils and sheets originate from Nu-Ray Metals in Washington. Both gauge options have the trusted 40 year D2 Kynar paint system for long-lasting performance in Southeast Alaska's salty humid environment.
Shingles: Although we can install any type of shingle, for Juneau we recommend Malarkey Legacy, Vista, or Highlander shingles because of their rubberized SBS modified construction. This enables them to remain flexible at freezing temperatures and to adhere to each other extremely well, preventing wind damage. It also enables them to take the punishment of constant rain and snow. We always recommend the "algae block" feature, which helps significantly fight moss growth. Other shingles are available upon request.
Rain gutters: We manufacture 5″K style aluminum gutters. We can run 26 gauge steel gutters also upon request. Our corners are hand mitered for a seamless look. Our rain gutters in Juneau, Douglas, Thane, Auke Bay, and Juneau County, AK are also available in a variety of materials—ask our metal roof contractors what's right for your building today!
Metal roofing installation
Our expertise in metal roofing products translates directly to our ability to work with them during installation. We're able to assess the specific needs of your building, tailor metal roofing products to fill that need, and assemble everything precisely to ensure your roof is worry free. We're your all-in-one resource for metal roofing products and services!
For more information about the many products our metal roof contractors offer or to inquire about our expert capabilities regarding metal roofing products like metal roof panels and related services like roof replacements, please contact us today by calling 907-586-6540!