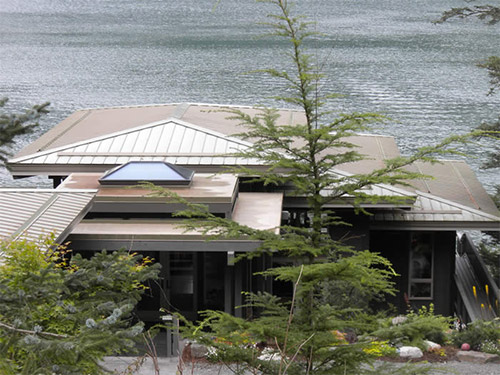 Part of the reason residential and commercial customers choose Design North Roofing over other roofing companies in Juneau, AK is because of our ability to provide truly tailored roofing solutions. There's no product we're not familiar with and nothing we can't service or install.
We go out of our way to offer customers the best of the best when it comes to roofing and rain gutter products. We understand how important it is to be able to rely on products that are manufactured to last, which is why our selection includes a true array of best-in-class products:
Metal roofing and siding: We manufacture residential and commercial metal panels in 26- and 24-gauge capacities. We make both the 12-inch concealed fastener snap-lock panels and mechanically-seamed commercial panels up to 24-inches wide that are applicable for span conditions.
Shingles: Although we can install any type of shingle, for Juneau we recommend Malarkey Legacy or Hurricane shingles because of their rubberized SBS modified construction. This enables them to remain flexible at freezing temperatures and to adhere to each other extremely well during high winds. It also enables them to take the punishment of constant rain and snow. We always recommend the "algae block" feature, which helps significantly fight moss growth. Other shingles are available upon request.
Rain gutters: On metal roofs we recommend using cleats and rods, along with the installation of snow stops. Our corners are hand mitered for a seamless look. We also recommend K-style gutters with a protective lip, to mitigate the risk of ice damming. Our rain gutters in Juneau, AK are also available in a variety of materials—ask us what's right for your building today!
Metal roofing installation
Our expertise in metal roofing products translates directly to our ability to work with them during installation. We're able to assess the specific needs of your building, tailor metal roofing products to fill that need, and assemble everything precisely to ensure your roof is optimally positioned to protect your building. We're your all-in-one resource for metal roofing products and services!
For more information about the many roofing products we offer or to inquire about our expert capabilities regarding metal roofing products and installations, please contact us today by calling 907-586-6540!